The House is the ultimate retreat for the most discerning guest. An at-home OPEN CONCEPT atmosphere that caters to friendly canines alike. The House offers a home-away-from-home stay complete with all the fixin's: couches, beds, DogTV, in ground pool, gourmet goodies as well as other fine services available. Don't forget a private canine concierge at their service 24/7! Overnight guests enjoy an all-inclusive stay and optional extras can be added to any daycare stay.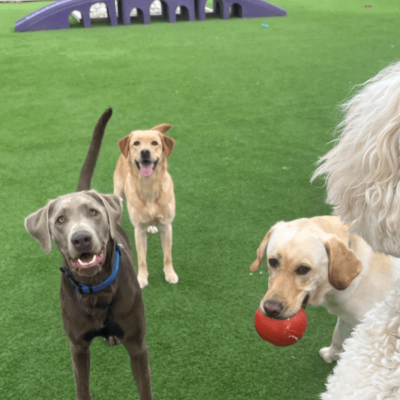 Guests of The House must be neutered/spayed as well as pass a trial daycare session prior to boarding or attending daycare at The House. Proper evaluation and screening of each guests ensures each and every dog's stay at the house will be a success. Any dogs not suited for the House will be moved to Country Paws Kennel for the remainder of the stay.



Our "Strike" Policy
It is important for all of our guests of different sizes and personalities to maintain positive relationships. In the event of destructive or negative relationships, a "strike" will be issued. Just like the game of baseball, if three "strikes" are issued an alternative space at the main kennel will be provided. After a 6 month period, a re-trial of the House environment would need to be completed before returning to care. We reserve the right to issue multiple strikes, or a strike out, depending on the severity of the incident without the option of a re-trial.
Examples of a "strike" would include, but not limited to constant marking or urinating in the House, the ability to climb or jump over fences or barriers, toy or food possessiveness, mounting, destructive behaviour or aggression.
What Should You Bring?
All guests bring their own food (preferably in a hard container), and any special feeding items or medication. Toys and small blankets that are machine washable are welcome. An item with your scent on it (for example pillowcases) helps comfort a homesick guest. It is not necessary to bring feeding/water bowls as we have plenty. We do not give rawhide treats or pigs ears. Please, no glass containers or bowls. We sometimes have slobbery hands! Please bring a copy of your dog's vaccinations, including Bordetella, Distemper and Rabies (for new customers or annual updates). All three vaccines must be up to date.
Drop Off and Pick Up Hours
All guests are welcome for both drop off and pick up within our operating hours. A scheduled time is not needed. If you require a late pickup then a stay 'n play charge will apply. If your pup is having a spa day before departure, please let us know your estimated pick up time to ensure completion before pick up.
Vaccines Required
All guests must be up to date on all vaccines to attend (including puppies). Vaccines required are: